I used to be cool…
---
I used to be really cool.
My wife always used to say that I was cooler than her, even though she's a bigshot award-winning CEO who pulls off cloth-blazers like a boss.
I was referred to as The Cool Friend.
Being cool was a big part of my identity…I used to be a touring musician. I was in a rock band.
Those are all COOL things.
Hell, when people asked me what I did for a living, I could confidently say, "I mix records."
And people would go like "WHAAA!?? How cool is that!"
And I'd go…NBD…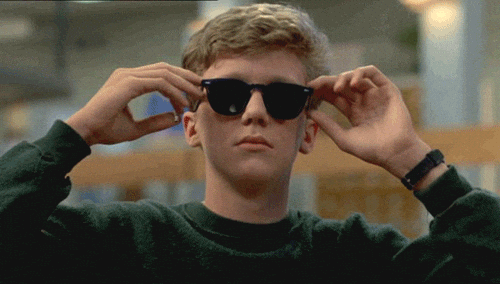 But now…
I look at myself in the mirror and see a sad dad looking back at me going, "man…where did we go wrong?"
I used to ROCK my leather pants, but now I wear sweatpants 24-hours a day.
I used to rock on the guitar but the only rock 'n' roll I've got left is a Metallica t-shirt from Target I'm not even wearing ironically anymore…
Every shirt I own has a permanent drool stain on my right shoulder from carrying my slobbering baby around everywhere.
Honestly, I hardly recognize this figure staring back at me in the mirror, pointing his finger at me and shaking his head at my unshaven face.
And not unshaven in a cool Dave Grohl stubble sorta way. Just dirty.
Man, I'm so close to 40 it's frightening…
I am just the disheveled cocoon of the cool person I used to be…but you know what?
But you know what I still am?
I'm still proud.
I'm proud of being a dad. I'm proud of what I've accomplished so far and the musicians and producers I've helped along the way.
You don't have to be cool.
You just have to be proud of what you're doing, which brings me to your records.
They don't have to be cool. They don't have to be the next big hit on the radio. They don't have to be perfect.
You just have to be proud of them.
That's the main thing. I just want to teach you to be confident so you can be proud to release your records.
And this week, I'm doing something new to help you improve your mixes.
I took six different mixes I've done in the past (back when I was cool!), in six different genres, and put them all together inside the Mix Walkthrough Vault.
You'll get:
Video Package: 6 video walkthroughs showing you my exact plug-in settings on how I got from rough recording to finished mix for rock, pop, hip-hop, folk, singer-songwriter jazz, and country blues.
Practice Multi-tracks: You can download the multi-tracks to each of these songs and follow along with me and try to beat my mixes (It'd be cool if you did!)
Reference Mixes: You'll also get the mastered reference mixes of each song so that you can use them as reference tracks to compare your mixes so that you know when your mixes are good enough.
Bonus Mix Template Masterclass: I also added my 45-minute Mix Template Masterclass so that you can learn exactly how to set up your mix template to get better mixes in less time.
Usually, this Mix Walkthrough Vault is only available as an add-on purchase or if you're an Audio Issues Insider, but all this week you can get all this for 50% off.
Come Friday I'm raising the price, but today you can get it for only $47!
Click here to access the Mix Walkthrough Vault and learn all of my advanced mixing techniques to take your mixes to the next level.
---
Keeping Track