What Your Dress Code Can Tell Me About Your Mixing Workflow
---
I have a strained relationship with fashion.
It's like that relative that lives just a little bit too far outside of town. You like the idea of hanging out, but the act of driving all the way out there is just too much of a hassle.
I can say the same thing about shopping for clothes.
On the one hand, I really like nice clothes. On the other, I despise shopping. My idea of a fun afternoon doesn't involve rummaging through the clearance section (where clothes go to die) only to reject the very same clothes other people have obviously condemned before me. But I'm a sucker for a sale so that's where I always start.
So I try to go about twice a year and I buy in bulk. Once for winter, and once for summer.
Buying in bulk means that if I find a shirt I like, I'll buy it in every color, so I don't have to waste time and energy figuring out what to wear every morning.
I get to choose from whichever Levi's 514 jeans are clean that day, plus whatever shirt I happen to reach for.
Decision Conservation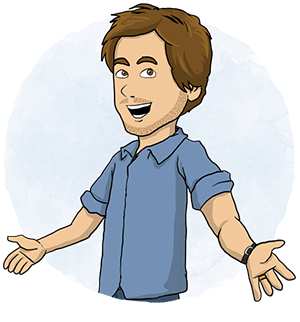 You see, I subscribe to a similar ideology as Marck Zuckerberg, Steve Jobs, and Barack Obama. The reason my cartoon avatar wears jeans and a button-down shirt is the same reason Steve Jobs always wore the same jeans and a turtleneck; why Mark Zuckerberg always wears the same shirt; and why Barack Obama only chooses blue or gray suits. It's my uniform, and it makes sense to dress my avatar up in the same way.
Busy people try to conserve their decision making energy. Wearing the same thing means one less thing to decide every day, leaving more brainpower for creative work. Like writing dumb blog posts about it!
Now, my cartoon doesn't technically have a wardrobe because I don't need a designer on staff to dress him every day. But I tend to stick to the same old standbys because I know it'll fit and I know it'll make me feel comfortable.
And if you feel comfortable, your confidence will make you look good too. It's science. Probably.
So this weekend was my second shopping spree of the year. This time, I went a bit crazier than usual.
Not only did I buy a bunch of different short-sleeve button-down shirts, but I also got every color v-neck in my size (Graham Cochrane and I have an unofficial competition on who has the larger v-neck collection. It's only unofficial in the way that I'm the only one competing, and he doesn't know it's going on).
When I got home, I color-coordinated every single v-neck with a matching short-sleeve button down and hung it up in the closet. Now, I have a complete matching wardrobe for every day of the week without needing to spend any decision-making energy on looking good.
Simplify Your Decisions While Mixing
The reason I do this is the exact same reason I use a mix template when I'm mixing.
My mix template has everything routed and ready for any situation. The plug-ins I like to use for every mix are set up and ready to go. The EQs already have filters where I want them; compressors have tweakable presets to work from depending on what channel they're on; all my effects busses and parallel processing channels are ready to rock.
Having a template like that means less trivial decision making, more creative work.
It's the same template I break down for you inside my eBook, Better Mixes in Less Time. You can get Better Mixes in Less Time for free with Step By Step Mixing right now if you don't buy it through Amazon.
That's right. Ignore my book on Amazon, and I'll reward you with an extra eBook for free.
Check it out here and start making better mixes in less time.
---
Music Mixing